DG 79
The DG79 features exceptionally robust cast iron base plates and turn-table which allows for precise mitre cuts to 45' both to the left and to the right. Turning on precise bearings, and with mechanical stops at 90, 15, 30 and 45 degrees in both directions, on both heads, the DG 79 guarantees quick set-ups, and repeatable, accurate cuts every time. Length setting is carried out with a manual hand wheel and brake, with E111 Digital length readout. The standard machine features 4.1HP motors on each head, which provides more than enough power to cut even solid aluminium in a high production environment. Operating with a 380mm diameter saw blade, this machine offers quite a generous cutting capacity. The mobile head run on exceptionally sturdy 2" solid ground rails which reduce vibration and guarantee accurate, clean cuts time and time again. The standard machine features:
Two Hand Safety Control
Pneumatic clamping
Hydro-pneumatic saw feed

Infinitely variable feed rates

With rapid approach to the material to minimise cycle times in production
Optional:
Solid machine base
Mobile work piece supports
Chip extraction system
Additional material clamps
With the addition of the E355 controller, length settings can be made automatically, and specific jobs may be stored for repeat production. With this controller it is also possible to add a label printer to identify specific parts as they are produced.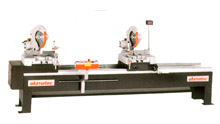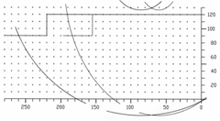 Capacity:


4.75" (120mm)


4.75" x 4.75" (120mm x 120mm)


4.75" x 6.25" (120mm x 160mm)