PSU 450 H
Semi-Automatic High Performance Cold Saw
This is our most versatile semi-automatic cold saw for fabricating shops. Like all saws in the PSU series, the saw unit travels up from underneath the machine table, thereby ensuring safe, and easy access to the work area. The standard machine includes a fully enclosed safety hood, with safety interlock for the sawing area. Operating with a 470mm(18 ½") sawblade and an adjustable material back fence this saw provides a very wide sawing range. Mitre cuts from 30 on the left side, through to 0 on the right side is achieved through the large turntable with engraved mitre scale. The heavy-duty base plate, and turn-table are both made from GGG60 material, and are therefore exceptionally durable and wear resistant.
Feed rates of the sawing unit are infinitely variable via a lockable hydraulic flow regulator valve. Material clamping is also achieved hydraulically, and clamping pressure may be regulated easily from the operators control panel. Standard blade RPM is 6/12/24/48
The Machine base is of a steel weld construction, and is built with thicker than normal steel plate ensuring near vibration free, exceptionally quiet cutting. Integrated into this base is a high performance flood cooling system, and separate chip and coolant drawers/tanks. The large front door (with safety interlock) offers easy access to the sawing unit for quick and easy saw blade changes.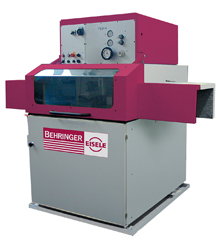 Capacity:


5.91"


5.51" x 5.51"


9.45" x 2.76"
Feed Rates: Variable
Blade Size: 17.72 (450mm)
Blade Speed: 6/ 12/ 24/ 48rpm