HCS 150
High Performance fully automatic carbide tipped circular sawing machines
At the heart of any of the HCS machines is an extremely robust and rigid gearbox and feed system. The worm gear is pre-adjusted to eliminate backlash on the sawblade, thereby guaranteeing the longest blade life possible. The saw unit is driven using a ball screw spindle with a servomotor, and rides on pre-tensioned linear bearings. With this design, it is then possible to reduce cutting times to an absolute minimum by positioning the sawblade very close to the material, eliminating free travel time, and in tern increasing your overall efficiency. The wide range of cutting speeds (RPM) ensures maximum versatility in terms of what material can efficiently be cut.

Set up times are kept to a minimum thanks to a variety of features:
Saw blade changes are exceptionally simple, and quick, thanks to the very large access door/safety cover.
Saw blade guiding is efficient, yet simple
State of the art controller provides an easy to understand interface, as well as standard tele-diagnostic equipment.
Options:
Four point clamping for rectangular bars
Integrated blowers in the clamps to remove chips in order to protect the surface finish of the work piece

Order Management:

In connection with a chain loading magazine, it is possible to work various different profiles with one program.
With this option it is possible to return a partially cut bar back into the loading magazine.


Disposal gripper that allows for positive positioning of the cut piece onto a chain conveyor, conveyor belt etc for parts sorting, or further processing.

Tube cutting software automatically
adjusts the feed rate of the sawing unit as
it cuts through the tube to further reduce
the cycle time.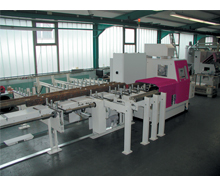 Capacity:


5.9"

5.3"